Six Degrees of Seperation
---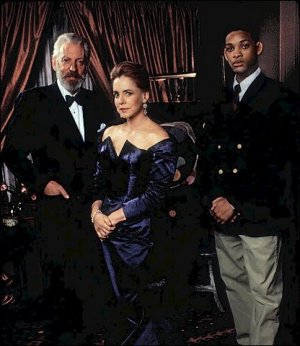 It was Denzel Washington who counselled Smith on how to proceed with his first starring movie role, as a young gay con man in Six Degrees of Separation (1993). Although it was scripted that his character would kiss another man, Smith was reluctant. He sought counsel from Washington, whose advice boiled down to, ''Don't be kissing no man." Smith informed the furious director, Fred Schepsi, that the homosexual smooch would have to be faked. When the movie opened, the controversy was smoothed over by critical praise for Smith's performance.
US (1993): Drama/Comedy; 111 min, Rated R, Color, Available on videocassette and laserdisc
Leonard Maltin Review:
Stylish, opened-up adaptation of John Guare's stage success about a handsome con man who convinces well-off, gullible New Yorkers that he is Sidney Poitier's son. Impressively acted film flows smoothly in its first two acts, before the satire gives way to chest-thumping tragedy. Dominant virtue is the wide-screen snap Schepisi gives to the New York settings, both indoors and out; only a letterboxed video will do it justice. Based on a true incident. Many NYC society types pop up in cameos. Shot in Super 35.
Performer		Character
Stockard Channing	Ouisa Kittredge

Will Smith		Paul

Donald Sutherland	Flan Kittredge

Ian McKellen		Geoffrey

Mary Beth Hurt		Kitty

Bruce Davison		Larkin

Richard Masur		Dr. Fine

Anthony Michael Hall	Trent Conway

Heather Graham		Elizabeth

Eric Thal		Rick

Anthony Rapp		Ben

Osgood Perkins		Woody

Catherine Kellner	Tess

Jeffrey Abrams		Doug

Joe Pentangelo		Police Officer

Lou Milione		Hustler

Brooke Hayward Duchin	Connie

Peter Duchin		Sandy

Sam Stoneburner		Carter

Maeve McGuire		Polly

Kelly Bishop		Adele

John Cunningham		John

Vasek Simek		Frank the Doorman

Chuck Close		Andy

Kazuko			Jeannie

Adele Chatfield-Taylor	Paula

Maggie Burke		Loft Party Guest

Edmond Genest		Loft Party Guest

Michael Stanley Kirby	Loft Party Guest

David Callegati		Art Dealer

Daniel von Bargen	Detective

John Rowe		Usher

Elizabeth Rossa		Bride

Diane Hartford		Julia

Frank O'Brien		Eddie

Ann McDonough		Teacher

Jose Rabelo		2nd Elevator Man

Todd Alcott		Concert Goer

JoAnna Noble		Concert Goer

Miriam Fond		Nurse

Annie Meisels		Doug's Girl

Mitch Kolpan		Policeman

Michele Greco		Workman

Tony Zazaula		Rainbow Room Captain

Arthur McGill		Hansom Cab Driver

Susan Tabor		Posh Couple

Paul Schmidt		Posh Couple

Carolyn Groves		Cocktail Party Guest

Jeannine Moore		Cocktail Party Guest

Tim Saunders		Cocktail Party Guest

David Tice		Cocktail Party Guest

Redman Maxfield		Fred

Margaret Eginton	Mary

Margaret Thomson	Grandmother at Baptism

Vince O'Brien		Grandfather at Baptism

Anne Swift		Guest at Baptism

Richmond Hoxie		Guest at Baptism

Kitty Carlisle Hart	Mrs. Bannister

Madhur Jaffrey		Guest of Honor

Arthur Brooks		Mrs. Bannister's Guest

Jacqueline Bertrand	Mrs. Bannister's Guest

Lisa Crosby		Mrs. Bannister's Guest

Nancy Duerr		Mrs. Bannister's Guest

Brian McConnachie	Mrs. Bannister's Guest

Angela Thornton		Mrs. Bannister's Guest

Robert Trumbull		Mrs. Bannister's Guest

Richard Whiting		Mrs. Bannister's Guest
Director: Fred Schepisi
© 1996 Microsoft Corporation and/or its suppliers. All rights reserved.
Short Personal Info | Biography | Recordings | TV-Series | Awards | Filmography | Links | Will Smith's Address | Home
---