James Avery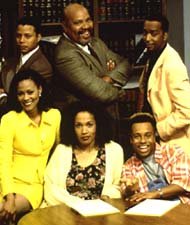 Sparks
Familiar faces from film and television including James Avery ("The Fresh Prince of Bel Air"), Miguel Nunez ("The Faculty"), Robin Givens ("Head of the Class") and Terrence Howard ("Dead Presidents") headline the cast of this new half-hour comedy.

Two brothers who are popular opposites manage the Sparks, Sparks and Sparks, a walk-in law firm in inner-city Los Angeles founded by their father Alonzo Sparks (Avery). Maxey Sparks (Nunez) and his brother Greg (Howard) have one thing in common-their mutual desire for the beautiful Stanford Law graduate, Wilma Guthbert (Givens).

Between the dueling brothers, the eccentric office staff and the wacky clientele, the sparks are sure to fly.
Short Personal Info | Biography | Recordings | TV-Series | Awards | Filmography | Links | Will Smith's Address | Home
---